Referring to this
table
, containing the frequencies of the Feeds and the symbol rates,
of Eutelsat at 7 ° east, I have created a specific
sat.ini
with which to scan these frequencies.
In the video you can see the result of my test.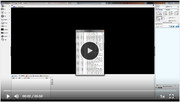 As you can see from the test, some results are obtained, even if some nearby
frequencies are tuned several times.
The question for @Altxro is as follows:
will it be possible to implement in the future a blindserch mode that works on specific frequency/polarity values,
to be specified in a feed.ini file, and to let the remaining values (SR-System-Modulation) be found by the tuner?
This would be an innovative function, which all feedhunters think I would appreciate,
because it would allow you to scan only the frequencies of the feeds that are now listed and in the public domain.
Thanks if you want to answer me